amazon
#SaleAlert - Flipkar, Amazon, Snapdeal and More
8:56 PM
Indian festive season is coming soon , there is navratri,dussehra, diwali and the wedding season knocking on our doors and so are amazing deals and offers from online shopping portals.
The competition among e-commerce retailers is very high and this only means better deals and discounts to us customers. Flipkart has announced a second edition of its Big billion days and Amazon and snapdeal arent far behind launching their own editions of diwali dhamaka sales .
I havent been shopping much these days except essential and festive shopping for eid and iam eagerly waiting for the sale bonanza to splurge and make my bank balance a tad bit lighter. All eccomerce portals have been publicizing their sales pretty vigorously and i really hope there are some good deals which actually force me to spend. I have my wishlist ready and i have also been keeping a tab on all my favourite ecommerce portals for all the sneak peaks on the sale which is coming soon. If you are looking to shop smart, i recommend you definitely have an eye on these sales and save some bucks.
Lets have a look at the sale schedule of the top indian online shopping sites in detail:
My favourite online destination to shop everything from laptop to make up essentials Flipkart has tagged their Pre diwali sale as #TheBigBillionDays which will be on for 5 days from 13-17 october . Flipkart has been putting in extra effort to make this sale a success and they also sent me a postcard inviting me to join their sale celebrations!
App sopping is something i like doing only when iam feeling too lazy or stuck in a traffic jam but flipkart is going to force me into it as they have announced that this massive 5 day sale is going to be only on their App. So make sure you update the app and be sale ready! ( the new app has ping to help you socially shop)
Complete Details of the big billion Days can be found
here
The sale schedule has been announced on Flipkarts twitter page , have a look and mark your calender's accordingly. I am expecting more offers on fashion since flipkart has partnered with myntra for the sale . fingers crossed
sale dates: 13- 17 oct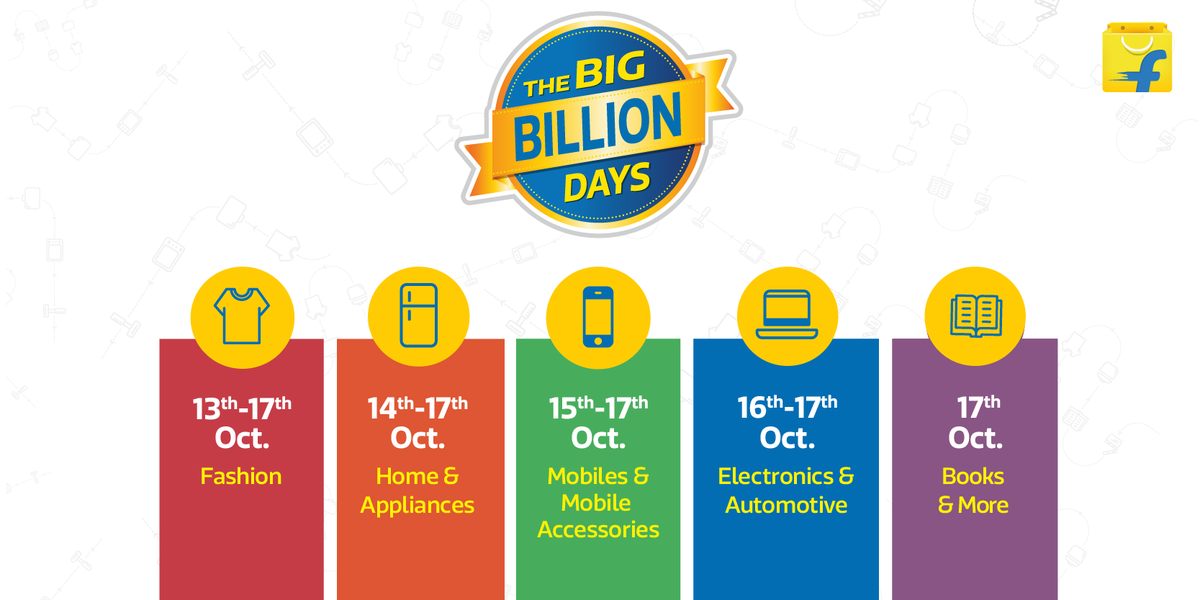 Amazon.in has titled its diwali sale as
Great Indian Festival Sale
. They have interesting sneak peaks of upcoming deals for users who sign up to their emails . I like how Amazon isnt forcing its customers to use their app but using tricks like deals being available 15 minutes in advance to app users. This is a nice move to get users to shop from app and people who hate apps can still stay away ! Flipkart needs to learn from them!
The sale will run for 5 days and i have a feeling Amazon copied flipkart here lol .
Sale dates :
13- 17 October
More details of the Great Indian Festival Sale can be found
here
If you follow me on twitter you will know that snapdeal has already had a pre diwali sale called
#DiwaliDilKiDealWali
and now snapdeal has announced special Monday Electronics sale on October 12. In this sale you can expect amazing deals on mobiles and tablets, laptops and accessories, appliances, TVs and cameras. So get ready to beat the monday blues with fabulous offers from snapdeal.
100 lucky customers who shop on 12th october also win exciting prizes.
More details on the sale can be found
here
Are you excited about the upcoming sale season? what are you looking to shop for?
I will be adding more sales to this list as and when sales get announced to keep an eye on this post.